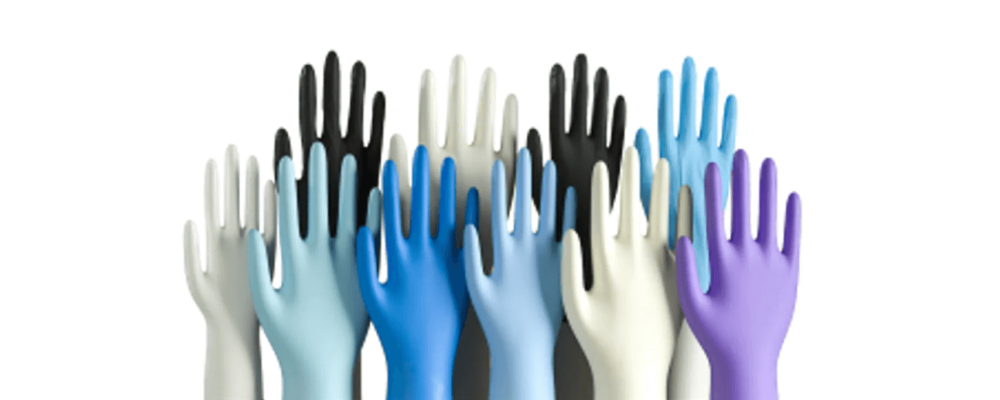 Disposable gloves are used in various industries for protection and prevention. Generally made from nitrile, natural rubber or vinyl. Traditionally, color of disposable glove are only available in white or blue. Today, with the growing importance of color coding in personal protective equipment, disposable gloves are available in many colors. And getting the right color for disposable gloves makes sense.
Within the medical industry, double layer glove with contrasting inner and outer color can be used to help identify glove failure. Alternatively, double gloving during surgical procedures, i.e., wearing a dark glove underneath a light one, or vice versa, can also help reveal punctures and small tears more easily, thus helps prevent surgical site infections. Some of the common contrasting colors used are yellow, black, blue, orange and green colors.
Task-specific-colored gloves are used in laboratory and food industry for cross-contamination prevention and visibility. Segmenting an area of a laboratory by color of glove can prevent cross-contamination by easy identification of laboratory worker when they move from one area to another. Similarly, color coded gloves are also used in food industry to prevent cross contamination of raw and cooked foods during food handling by workers. In this way, workers and their supervisors can easily verify that they are using the right glove for quality critical processes.
In food processing industry, glove particles resulting from knife cuts can sometimes contaminate foods. Hence, using a glove with specially chosen color can make identification of such glove particles from the food products easier. For instance, you may want to have a darker color glove that stands out against whatever food product being prepared.